Coaching Staff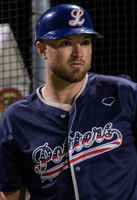 Mike Marjama


Field Manager

Email : Mike Marjama
Mike Marjama enters his first season as Field Manager of the Lincoln Potters after spending the last two as an assistant.
Mike is licensed real estate professional and trailblazing athlete using his platform to advocate for mental health, wellness, and personal development. Mike spent 10 years on an amazing journey chasing his dream of being a professional baseball player, climbing through the minor leagues to eventually make his Major League debut in 2017. In 2018, he was recognized as one of the 30 best catchers in Major League Baseball, serving as the Opening Day catcher for the Seattle Mariners.
As a former professional athlete, he recognizes how athletes can create positive impacts by sharing their stories and advocating for their passions. In 2018, he shared his challenges with a national audience through LeBron James' digital media company, Uninterrupted, bringing awareness to how mental health and eating disorders can impact young men, athletes and beyond. Mike's personal challenges with mental health and eating disorders, beginning early in his life have helped shape his new journey as coach, nationally acclaimed speaker and consultant. Mike is the first male professional athlete to speak out about eating disorders and their impact on athletes and his story has been featured by MTV, Good Morning America, The Doctors, CBS Today and countless others. Most notably in 2018, Mike traveled to the United States Capitol in Washington D.C. and addressed members of Congress about crafting better legislation for those affected by mental health.
Mike currently lives in Granite Bay working in real estate and helping local ballplayers pursue their dreams of playing in the Big Leagues. Yet he also spends his time around the country speaking at events, supporting the work of nonprofits, and helping craft better legislation to improve mental health and wellness.
With a successful Major League Baseball career, along with being a nationally acclaimed speaker and consultant, he knows what it takes to perform with the best in the world. After nearly 11 years as a catcher, guiding and serving some of the best players on the planet, Mike still enjoys finding ways to continue serving others. He may no longer be on a Major League field, but this is how he continues to step up to the plate.
Brock Ragatz


Pitching Coach

He earned his MA in Sports Management from Jessup in 2021 and a BS in Sports Marketing and Administration from Northern State in South Dakota where he played 4 years starting in 2016. Ragatz is a Potters alumni who competed for the 2018 Great West League runner-up team. He followed that by being an intern in the 2019 season. This led him to a Grad-Assistant position and then was promoted to Athletic Coordinator position at William Jessup University, just down the road in Rocklin, CA where he assists in recruiting and game-day operations for their sports teams. He began as the Potters' pitching coach in 2022 following a stint as the Jessup pitching coach in their 2021 and 2022 seasons. He now resides in Lincoln, CA with his pup, Mickey.
Cesar Tamayo


Assistant Coach

Tomayo spent 2 years at Marymount California University as a catcher and infielder. He specializes in catching and hitting for the Potters while spending most of his time in the first base coach's box. Prior to Marymount, he played at Mt. San Jacinto Community College. He has since left the LA metropolitan area and resides in Roseville where he is a coach for Better Baseball Training and an instructor at Designated Hitter.
Emma Hubbell


Head Athletic Trainer

Emma Hubbell has been with the Potters since 2018. She attended received her A.S. in Athletic Training from Ohlone College in 2016 and her B.S. in Atheltic Training from CSU Sacramento in 2017. She also received her Certification in Massage Therapy in 2019 from the National Holistic Institute. She is a Certified Athletic Trainer as of 2018 with other certifications in: Corrective Exercise, Fitness Nutrition, Performance Enhancement, and Basic Life Support. Hubbell is a member of the California, Far West, and National Athletic Trainer's Associations. She continually comes back each summer to #PotterUp and knows Lincoln is her home for the summer. She currently works at Rhodes College as an Assitant Athletic Trainer. Hubbell currently resides in Memphis, TN with her husband, Tyler and kitty, Nala.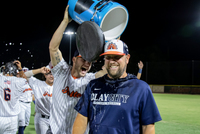 Ryan Stevens


Director of Recruiting

Email : Ryan Stevens
Ryan has led the Potters to 5 consecutive winning seasons with playoff appearances in 4 of them. He finalized his head coach stint with a 2022 West Coast World Series Championship by defeating the Philippines National Team. The Potters led the league in home runs in 2018 and were runners-up in 2021 and 2022.
After a successful college playing career, Ryan Stevens went on to coach at Sierra College for six years (2011-2016) serving as the hitting coach in a high-powered offense. The Wolverines reached the postseason in each of his six seasons on staff.
In addition to coaching at Sierra College, Stevens served as the head coach and general manager of the Sacramento Scorch Summer Collegiate Baseball Club from 2011-2015.
In 2016, Stevens accepted a position with Louisville Slugger as their Player Insight Specialist where he brings in players of all ages to a state-of-the-art indoor hitting facility located in Roseville, CA to evaluate bat performance for future Wilson/Louisville Slugger products.
2020 gave Ryan the opportunity as a volunteer hitting coach for the William Jessup University Softball team where he is now named the Associate Heach Coach and helped the Warriors to a GSAC Regular Season and Tournament Championship.
Ryan currently resides in Rocklin, CA with his wife, Brittany, and three children, Hudson, Lainey, and Sienna.
Kody Keroher


Director of Player Development

Keroher was the Potters' Pitching Coach from 2018 to 2019 and helped the staff dominate on the mound. He played at and graduated from the University of Nevada Reno after a two-year stint at Solano Community College. In 2004, he was drafted by the Colorado Rockies in the 46th Round of the Major League Baseball Draft. After his playing career, Keroher worked as the Pitching Coach for Solano from 2008 to 2012 where he led the Falcons to five league championships and two Super Regional appearances. He is formerly the Director of Operations and Facilities at Sacramento State University and he and his famIly reside in Rocklin, CA.