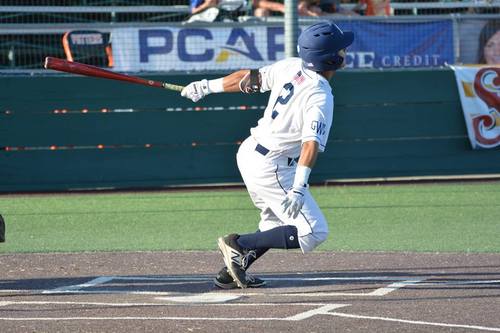 Potters take the series against the Gems with a 13-5 win on Tuesday night. Zach Patterson had a perfect night going 4-4 with 2 doubles and 3 RBI. He reached base in all 5 plate appearances in the game. Patterson said after the game his approach was to hunt the fastball and he got plenty of fastballs to hit. Taylor Garcia also had a big night going 2-3 with a double and 2 RBI. Garcia played some solid defense as well at 2nd base. The Potters exploded in the 7th inning with 6 runs capped off by a Brian Morley 2 run homerun. The Potters have won 3 in a row and 4 of their last 5 games to improve 5-3 on the year. The Gems fall to 2-4.
Micah Gunter got the start for the Potters and worked 4 1/3 innings giving up 7 hits, 4 runs, 2 walks, and striking out 2. Savea came in for relief and got the win throwing an inninng and 2/3 of scoreless baseball. The bullpen together tallied 4 and 2/3 innings allowing 1 run, 4 hits, 4 walks, and striking out 7.
Isaac Cruz went 1-4 with 2 RBI and 2 runs scored. Will Law went 2-4 with a run scored and 2 walks.
The Potters look to sweep the Gems tonight with game time being 6:35 and the gates open at 5:30. You can buy tickets here: Tickets