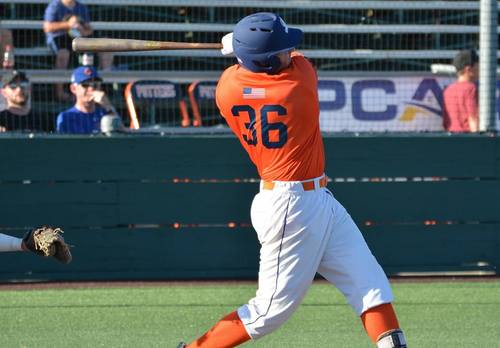 Walker Dodero's pinch hit walk off single lead the Potters to a 7-6 victory over the San Francisco Seals.
The Potters entered the 9th inninng down 6-4. Logan Wurm lead off the inning by reaching first base after being hit by a pitch. Max Modeste then came into pinch run for Wurm and advanced to second on a fielder's choice by Charles Middleton the resulted in both runners being safe. Grant St. Martin walked up the plate and on a 1-1 pitch drove a ball to the wall to tie the game with a double. St. Martin went 2-3 with 2 RBI and 2 walks. Dylan Smethurst followed with sac bunt to get St. Martin over to third base. Walker Dodero entered the game to pinch hit for Zach Patterson and wasted no time in ending the game. Dodero swung at a first pitch fastball and drove over the center fielder's head to drive in St. Martin and win the game. Dodero said afterwards "After facing him yesterday, I knew how to handle his fastball and that's what I was looking for".
Jacob Frederick, the starting pitcher for the Potters, worked into the 8th inning. Frederick's final line was 7 1/3 inninngs, 7 hits, 6 runs only 3 of them earned runs, 2 walks, and 6 strikeouts. Frederick was able to give the bullpen some needed rest by working into the 8th inninng. Micah Gunter finished the inninng in relief. Brock Ragatz pitched the 9th inning allowing a hit and recording a strike out. Ragatz would get the win for the Potters.
Dylan Smethurst went 2-4 with an RBI. Logan Wurm went 2-4 with a run scored. The Potters improve to 3-3 and the Seals fall to 1-4.
The Potters are back at it tonight for the series opener against the Klamath Falls: Gems. Game time is 6:35 and gates open 5:30. You can buy tickets here: Tickets