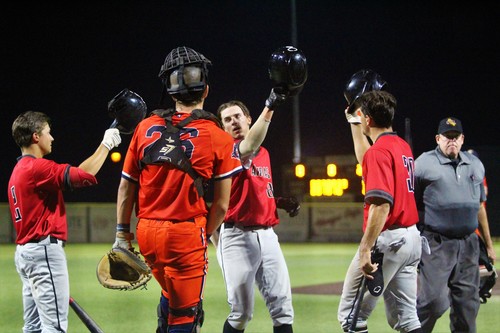 Just a night after handing the Healdsburg Prune Packers their first series loss of the season, the 26-18 Lincoln Potters returned home to begin another series with the 20-6 Walnut Creek Crawdads, who entered play on a five-game winning streak.
In four prior meetings with the Crawdads this season, the Potters only managed one win in a game that saw Dominic Rodriguez (Delta College) go 4/5 with three RBI and two runs scored.
Rodriguez was in the lineup again tonight joined by Patrick Herrera (University of Kentucky) who has homered in three of the Potters' last four games.
Making his fifth start this season for the Potters on the mound was former CCL North Pitcher of the Week, Cooper Robinson (UC Irvine). Robinson's last start got cut short after two scoreless innings when he exited with discomfort in his throwing hand. He entered only two strikeouts shy of Peyton Stumbo (Pittsburgh Pirates) who still leads the team despite not having played a game since June 23.
With pairs of strikeouts in the top of the first and second innings, Robinson quickly crowned himself as the new team leader. The Potters failed to provide their ace with any run support in the first two innings.
In the top of the third inning, the Crawdads broke the scoreless tie with back-to-back RBI singles, scoring three in the inning. Robinson had only allowed three runs in 22 innings before the three he allowed in the third.
The Potters managed to shorten the deficit to two in the bottom of the inning when Tyler Gerety (University of Kansas) scored on the Reuben Church (University of Kentucky) fielder's choice.
Caden Hunter (Sierra College) relieved Robinson in the fourth inning. Hunter was the winning pitcher in the Potters' lone win over the Crawdads this season. Hunter struck out the first two batters he faced and immediately calmed the Crawdads' offense.
After another scoreless inning from Hunter, the Potters got back on the board with a Ben Higdon (University of Kentucky) solo shot in the fifth. This was Higdon's third home run off Crawdad pitching this season.
As Robinson did earlier in the game, Hunter ran into trouble in his third inning of work. Three runs scored on back-to-back bases-loaded singles. He eventually got himself out of the inning with a nifty 1-5-3 double play, but not before the Crawdads extended their lead to four.
The Crawdads scored three unearned runs in the seventh inning off Sebastian Kirchner (University of New Mexico) before coasting the rest of the game to a 9-3 victory in the series opener. Dom Rodriguez scored the Potters' final run in the ninth inning.
The Crawdads clinched their spot in the CCL Playoffs with the win, with the Potters' chances looking bleaker by the day. After heading to Walnut Creek on Saturday, the Potters will return home for the series finale with the Crawdads on Sunday.