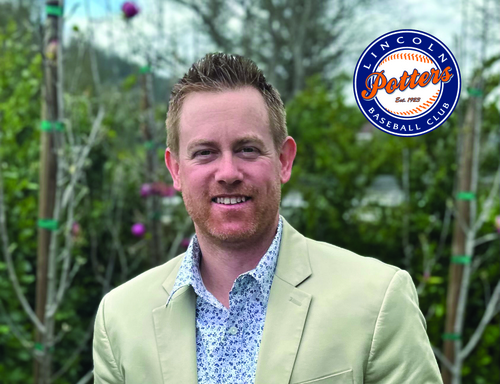 FOR IMMEDIATE RELEASE:
Thursday, April 6, 2023
Potters GM Matt Lundgren Promoted to President
Lincoln, Calif. — The Lincoln Potters announced that General Manager Matt Lundgren has been promoted to President of the Club. He will continue to run the day-to-day operations as General Manager and will now serve as President of the Lincoln Potters Baseball Club Board of Directors after previously holding the role of Vice President.
Clifton Taylor and Isabel Domeyko Taylor will continue in their Club roles as Chief Financial Officer and Chief Executive Officer respectively. They helped found the Potters in 2016 as minority owners and took over as majority owners following the 2017 season.
"Matt has played a key role in strengthening all facets of our organization so that we're positioned for long-term success and growth, and we're very excited that he's agreed to take on this expanded role," said Domeyko Taylor.
"I can't begin to thank Clifton and Isabel enough for entrusting me with this opportunity and responsibility," said Lundgren. "Being a part of this organization from the beginning in 2016 and helping grow it to where it is today has been incredibly rewarding. I can't wait to see what the future holds and to get the 2023 season underway."
100th Anniversary Season Tickets On-Sale Now
The 2023 season marks 100 years of Potters baseball in Lincoln. We couldn't be happier to keep the tradition alive and are excited to celebrate 100 years with you this summer! TICKETS ARE ON SALE NOW! Visit LincolnPotters.com to purchase.
Potters Unveil 100th Anniversary Logo
To commemorate the 100-year anniversary of Potters baseball, which in partnership with Gladding, McBean began in 1923, the Club has unveiled a new logo that will be used throughout the 2023 season.
Enjoy VIP Group Nights in the Kiln
The Kiln is the Potters' exclusive shaded VIP group area. This hospitality space is a great option for end of year Little League parties, hosting customer and employee appreciation events, birthdays, and other get-togethers. With spaces for 25-300 people, a night in the Kiln is the perfect way to celebrate any occasion. Packages start at just $20 for all-you-can-eat hamburgers and hot dogs, chips, soda, water, and dessert. Please contact Tatiana Robertson at [email protected] or 916-209-3444 to reserve your group night.
Season Tickets, Mini plans and Punch Cards Available
Full-season tickets, mini plans, and punch cards are on sale now. Visit LincolnPotters.com or call 916-209-3444 to get yours today.
***
For questions about the 2023 season and for more information about Lincoln Potters Baseball, please call 916-209-3444 or visit www.LincolnPotters.com