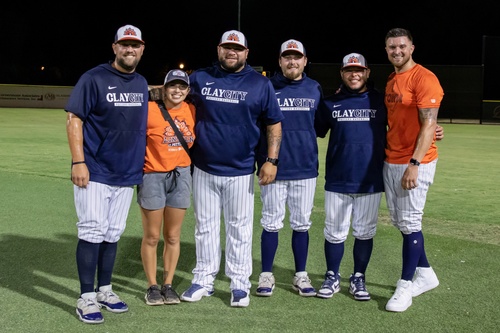 FOR IMMEDIATE RELEASE:
Friday, February 10, 2023
PETERS FINALIZES STAFF WITH FAMILIAR FACES
Lincoln, CA - First-year Manager Jonathan Peters has finalized his coaching staff for the 2023 season, bringing back all of the assistants from last year's West Coast World Series Championship Team.
"Our staff has been working hard to continue to bring in high caliber humans and outstanding baseball players to join us this summer," Manager Jon Peters.
Rejoining the staff are pitching coach Brock Ragatz, assistants Mike Marjama and Cesar Tomayo, trainer Emma Hubbell, and clubhouse manager Ray Garcia.
Brock Ragatz will return for his second season as the team's pitching coach. Brock played for the Potters in 2018, served as an intern in 2019, was an assistant coach in 2020, managed the Yuba-Sutter Gold Sox in 2021, and returned to Lincoln last year as the pitching coach. Ragatz also coached at William Jessup University in 2021 and 2022. He currently works in Jessup's Athletic Department as an Athletic Coordinator.
"He is outstanding at what he does and I am thrilled to have him back by my side this summer managing our staff," Peters said. "He has managed at this level and his knowledge and experience will be huge for our staff," he added.
Mike Marjama coached last season in a part-time capacity and will be back in a full-time role this summer working with hitters and catchers. Marjama played parts of two seasons for the Seattle Mariners in 2017 and 2018. He played college baseball for Sacramento City College and Long Beach State before being drafted by the Chicago White Sox in the 23rd round of the 2011 Major League Baseball Draft.
"Mike brings a calm, cool and collected approach to the dugout," Peters said. "He keeps the guys confident and loose." "Having played at the highest level, he will be a pivotal resource for us this summer."
Cesar Tomayo rounds out the on-field staff. He served as an assistant last season and will continue in that role once again this year. Tomayo played at Mount San Jacinto Community College and Marymount California University. He currently works as a coach for Better Baseball Training and as an instructor at Designated Hitter in Rocklin.
"I'm excited to have Cesar back for year two," said Peters. "He plays an instrumental role with our position guys' early work and BP. He's always willing to give them his time." he added.
Emma Hubbell enters her 6th season as the Potters Head Athletic Trainer. She received her A.S. in Athletic Training from Ohlone College in 2016 and her B.S. in Athletic Training from CSU Sacramento in 2017. She also received her Certification in Massage Therapy in 2019 from the National Holistic Institute. She is a Certified Athletic Trainer as of 2018 with other certifications in: Corrective Exercise, Fitness Nutrition, Performance Enhancement, and Basic Life Support. Hubbell is a member of the California, Far West, and National Athletic Trainer's Associations.
"In my mind there isn't a better trainer in summer ball," Matt Lundgren GM of the Potters had to say. "She's all in and does an incredible job keeping our players healthy," "We are very fortunate to have her back for a sixth season."
Ray Garcia will be back once again as the Clubhouse Manager for the Potters. This will be Garcia's 7th Season running the clubhouse for his hometown team.
"Ray Garcia is synonymous with Potters baseball," Lundgren said. "His clubhouse is professionally run and he never shies away from lending quality life advice to the guys," "Couldn't imagine a summer of Potters baseball without Ray keeping us all in check," Lundgren added.
"We are looking forward to getting back out there and seeing all the Potters faithful," Peters said. "Can't wait to Potter Up again this summer."
100th ANNIVERSARY SEASON
The 2023 Season will mark 100 years of Potters Baseball in Lincoln. We have 1923 in our logos to represent the first year baseball was played in Lincoln under partnership with Gladding, McBean. We couldn't be happier to keep the tradition alive and we are excited to celebrate 100 years with you this summer!
2023 SCHEDULE
The Potters 2023 Schedule will be released soon. We know everyone is eagerly awaiting the dates so they can mark their calendars. Bear with us just a little longer.
SEASON TICKETS, MINI PLANS, PUNCH CARDS
Full-Season Tickets, Mini Plans, and Punch Cards are on sale now. Visit LincolnPotters.com or call 916-209-3444 to get yours today.
***
For questions about the 2023 season and for more information about Lincoln Potters Baseball, please call 916-209-3444 or visit www.LincolnPotters.com