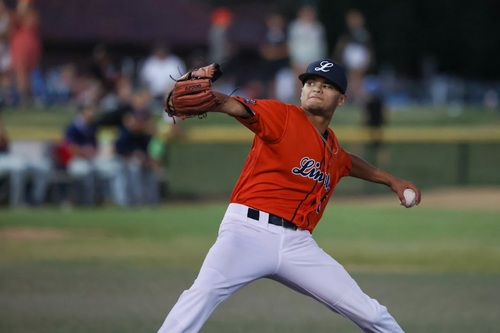 Potters Fall to Crawdads on the Road
By Jordan Georgeson
The Lincoln Potters hit the road for a league contest last night against the Walnut Creek Crawdads. The Crawdads struck first with two outs in the bottom of the second inning with a two-RBI double hit deep to center field. They added to their lead with two more runs in the third and fourth innings to pull out to a 6-0 lead. The Potters answered back in the fifth, loading the bases with no outs but ultimately only scoring three runs in the inning. The Crawdads added two more in the sixth to pad their lead and hang on for an 8-3 victory. With tonight's loss the Potters' magic number for clinching a playoff spot remains at three with just seven league games left.
Lincoln had trouble at the plate tonight, oftentimes finding themselves behind in the count early on in the at-bat. This led to eleven strikeouts by the Potters and just three walks in the ballgame. Despite this, the Potters were still able to get seven hits in the game. Jeffrey David went 2-5 with an RBI double in the fifth that was just inches away from being a grand slam. Carson Blatnick had two hits in the contest as well. Chase Stanke brought two runs home with a single in the fifth to cut the deficit to three at the time. Unfortunately the Crawdads bullpen was able to shut the Potters bats down in the middle and late innings, keeping them from putting together any more rallies.
Wild pitches and errors haunted the Potters defensively in the game, as they had three of each. Starting pitcher Carson Kohls went four innings and gave up five earned runs in the contest. Daniel Sotelo came on in the fifth and pitched one and two-thirds innings in relief, giving up two runs and striking out four. Jojo Villareal had a strong outing for the final two and a third innings, striking out five batters and not allowing a single run or hit in the contest.
"I think we have to hunt pitches a little bit earlier in the count. They threw some good arms at us today, we just fell behind early in counts. Our guys need to get the barrel out sooner." said assistant coach Jon Peters after the game. "They've been playing well...I don't think it's a setback at all, they just threw some good arms at us."
The Potters hit the road once again today for a CCL road game against the Healdsburg Prune Packers. Watch the Potters live on Facebook and listen on Potters Radio via the mixlr app. Also follow along on twitter @LincolnPotters to get live updates!
You can find tonight's box score here.