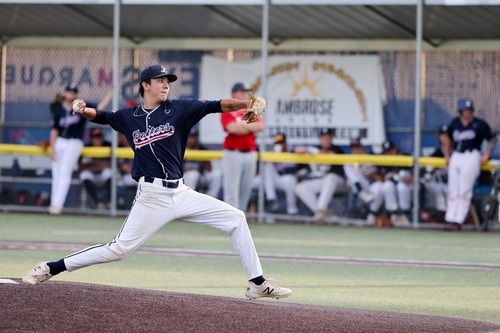 Potters Capitalize on Opponent's Mistakes, Win Fifth Straight
By Jordan Georgeson
The Lincoln Potters won their fifth game in a row tonight in a non-league contest against the Novato Knicks. The Knicks struck first in this one, scoring on a wild pitch in the top of the first inning to get on the board early. That would be the only Knicks lead of the game however, as the Potters scored three runs in the bottom of the first inning to pull ahead 3-1. The Potters added another run in the second on yet another wild pitch. The Knicks inched closer with a big solo shot in the fourth inning but once again the Potters answered quickly, putting up two more. Lincoln added another two in the sixth to finish up the scoring on the night in a game that they won 8-2. With this win the Potters have now won five games in a row.
Mason Holt was a key contributor to the Potter offense tonight, going 3-5 with a double, two singles, and an RBI in the contest. Trevor Haskins had a good night at the plate as well, with a big two-RBI single in the first inning to give the Potters the lead and swing the momentum in their direction. Jason Brandow added another RBI to his season total with a sacrifice fly to center field in the fourth inning that brought Jack Grant home. The Potters were aggressive on the basepaths tonight with nine stolen bases. Eddie Madrigal stole home in the fourth inning on a double steal that put the Potters up 5-2. The Potters took advantage of several mistakes by Novato, with three of their runs coming from passed balls or wild pitches.
Lincoln's pitching was solid for the entire game, only giving up two hits in the contest. Jose Ledesma earned his first win of the season, going four innings and allowing just one hit and two runs. For the fourth straight night, the Potters bullpen shut down the opposing offense, and has allowed just two runs in their last twenty-five innings. Ryan Gallagher made his Potter debut on the mound tonight and retired the side in order in his only inning of work. Angel Cespedes had himself another solid outing, going two innings and allowing just one hit while striking out three. Ryan Bruno finished the game on the mound for the Potters and retired the side in order to shut the door on the Knicks.
The Potters go for the sweep in tomorrow's Independence Day series finale with first pitch scheduled for 6:05pm. There will be a fireworks display immediately following the game. Watch the Potters live on Facebook and listen on Potters Radio via the mixlr app. Also follow along on twitter @LincolnPotters to get live updates!
You can find tonight's box score here.