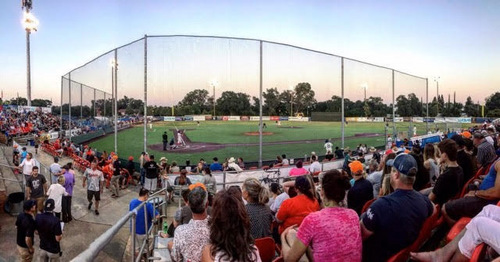 FOR IMMEDIATE RELEASE:
Monday, May 3, 2021
2021 Promotional Schedule Announced
Lincoln, CA -In advance of limited Single-Game Tickets going on sale Friday, May 7 at 10am, the Potters have announced their 2021 Promotional Schedule.
The Lincoln Potters are back this summer and are excited to welcome fans once again to McBean Stadium. The Potters fifth season will be their first full-season as members of the California Collegiate League and will feature 32 home games and 25 road contests. Lincoln will play a total of 30 league games against the Healdsburg Prune Packers, Walnut Creek Crawdads, and Solano Mudcats. Additionally, Lincoln will be welcoming the San Luis Obispo Blues of the CCL South for a three-game series. The rest of the Potters schedule is filled with top-level non-league teams from across the west coast. Highlighting the non-league slate at home are games against the Novato Knicks, Sacramento Yankees, Seattle Studs, West Coast Kings, and Yuba-Sutter Gold Sox. The Potters will also travel to play the Humboldt Crabs, Medford Rogues, and Gold Sox.
Highlighting this season's promotions are nine premium Giveaway Nights that include Rally Towels on Opening Night Thursday, May 27 (courtesy of Fiddyment Farms), Squirt Guns on Friday, May 28 (courtesy of Astro Air Design), LeRoy Stevens Bronze Figurines on Friday, June 11 (courtesy of Lincoln Area Archives Museum), Throw Blankets on Saturday, June 19 (courtesy of DR Horton), Beach Towels on Friday, June 25 (courtesy Marques General Engineering), Cleatus the Goat Bobbleheads on Friday, July 2 (courtesy of Feather Falls Brewing Co.), Bucket Hats on Friday, July 16 (courtesy of Cornerstone Insurance), Beach Balls on Friday, July 23 (courtesy of Placer County Association of Realtors, Hydro Flask Pint Glasses on Sunday, August 1 (courtesy of Simply Nutrition).
The Potters will also have seven theme nights with special character appearances including Hispanic Heritage Night on Saturday, June 12, Piper's Birthday on Saturday, June 19 (presented by DR Horton), 90's Night on Saturday, June 26 (presented by Placer Title), Harry Potter Night on Saturday, July 10, Super Hero Night on Saturday, July 17, Disney Night on Saturday, July 24, and Star Wars Night on Saturday, July 31.
Opening Night presented by Gladding, McBean on Thursday, May 27 will commence the Potters' fifth season against the Yuba-Sutter gold Sox. The Potters will square off against the Healdsburg Prune Packers on Tuesday, June 4 in their first-ever California Collegiate League game.
Additionally, the Potters will celebrate Military Appreciation Night on Saturday, May 28, Independence Day Celebration with specialty jersey auction on Sunday, July 4 (presented by PCAR), and Stack the Stadium on Sunday, July 25 (presented by DR Horton)
The 2021 Potters season also features six recurring promotions, Feather Falls $2 Tuesdays with $2 12-ounce beers, soda, and water, Wine Wednesdays with $3 Sangrias, Feather Falls Thirsty Thursdays with $2 12-ounce beers, soda, and water, Duelling Dogs $5 Fridays with $5 Meads/Ciders, Basic Seltzer Saturdays with $2 Hard Seltzers, and $3 Sunday Funday with $3 Hangar 24 American Light Lagers.
The Potters will also play host to the CCL State Championship Tournament August 4-6 and the West Coast World Series August 7-13. Ticket information for these events will be announced at a later date.
Tickets for Lincoln Potters regular season games can be purchased online at LincolnPotters.com beginning at 10am on Friday, May 7.
LINCOLN POTTERS OFFICE
The Lincoln Potters office has relocated from 436 Lincoln Blvd. Ste. 104. to 960 Wildcat Blvd. Rocklin, CA 95765.
***
For questions about the 2021 season and for more information about Lincoln Potters Baseball, please call 916-209-3444 or visit www.LincolnPotters.com