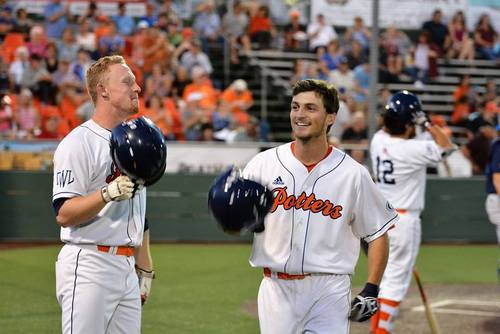 The Lincoln Potters made sure to put on a show in their return to McBean Stadium last night, beating the Marysville Gold Sox 11-5 in front of a sold out crowd of 1,657 people.

Zach Hoffman brought the excitement to the Potters offense hitting two home runs and going 3-for-3 with two RBIs. Also adding to the 11 runs scored by the Potters was Braden De Benedictus who went 2-for-4 with three RBIs, Joseph Torres went 1-for-4 with two RBIs and Isaiah Garcia went 2-for-3 with one RBI.

On the mound, Jacob Gomez got the start for the Potters pitching two innings allowing four hits, one walk and one run with four strikeouts. Hector Sepulveda got his second win of the season pitching five innings while only allowing one hit, two walks and striking out six.

Come out to support your undefeated Potters tonight at McBean stadium at 7:35 p.m. against the Portland Pickles [1-2].