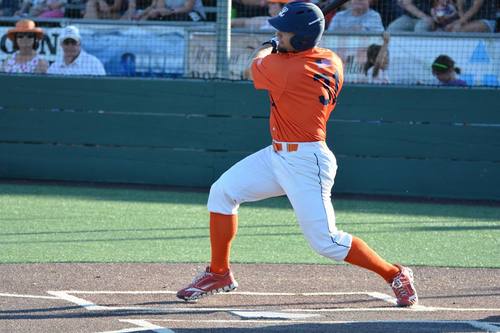 Billy Rockefeller had a big night against the Klamath Falls Gems. In the bottom of the third inninng, Rockefeller drove a first pitch curveball beyond the left field fence for a grand slam that would put the Potters up 5-0 at the time. Rockefeller said after the game, "I have been swinging the bat good with not much to show for it so it was nice to put one where they can't catch it" Rockefeller went 2-4 with 5 RBI and 3 runs scored. Potters won the game 10-4.
Rockefellers offense backed a quality start from Nathan Gillman. Gillman threw 6 inninngs allowing 4 runs, only 2 of them earned, allowing 5 hits and 2 walks while striking out 3. Gillman's 4 runs were given up in the top of the 4th inning and was able to limit the damage by leaving men on base to end the inninng. Gillman worked quickly and kept the Gems off the balance to give him the win on the game. Nolan Murphy pitched in relief and struck out 5 over his 2 innings of work allowing only one hit.
Victor Tiscareno hit a pinch hit 3 run homerun in the bottom of the eighth inning to put the Potters up 10-4. Joe Starick reached based 3 times going 2-5 with a stolen base.
The Potters improve to (4-3) while the Gems falls to (2-3). The game's start time is 6:35 and the gates will open at 5:30. You can buy tickets online here. Tickets