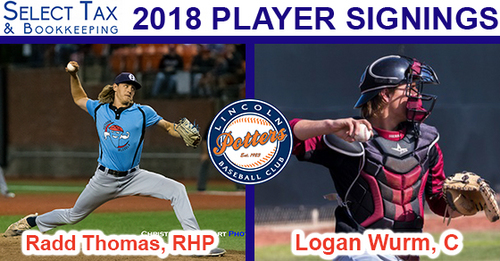 Today's Select Tax & Bookkeeping Player Signing Announcement includes two more players from Sierra College.
The Potters are thrilled to announce the signing of right-handed pitcher Radd Thomas and catcher Logan Wurm!
Radd Thomas - RHP
Radd played for nearby Placer High School in Auburn and grew up in Newcastle, CA. He comes to Sierra College by way of UC Santa Barbara where he redshirted as a freshman in 2017. The righty finished 3-1 with a 1.38 ERA in his senior year at Placer and was named Perfect Game All-American Honorable Mention.
Logan Wurm - C
Logan is a sophomore at Sierra College and is originally from Marysville, CA. He has experience in the Great West League having played for the Marysville Gold Sox in 2016 and the Yuba City Bears in 2017. The catcher has combined to hit .253 with a home run and 19 RBI in 43 career games in the GWL. Logan is committed to furthering his baseball career at Division 1 University of Louisiana at Monroe as a member of their 2018 recruiting class.
Remember to use Select Tax & Bookkeeping this Tax season. Their bookkeeping and accounting services provide value, expertise, and "Financial Peace of Mind". Call 916-408-8664 to talk to John or Tina.