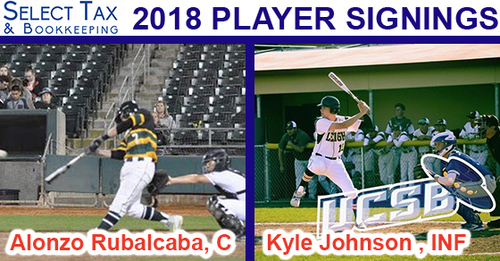 Today's Select Tax & Bookkeeping Player Signing Announcement includes two players from UC Santa Barbara!
The Potters owner, Clifton Taylor, is an Alumnus of UCSB and needless to say he is very excited about having a pair of fellow Gauchos on the Potters' roster this summer! Please welcome catcher Alonzo Rubalcaba and infielder Kyle Johnson to the Potters' family!
Alonzo Rubalcaba - C
Alonzo is a senior at Vanden High School in Fairfield, CA. He is committed to play baseball at UC Santa Barbara as a part of their 2018 recruiting class. As a junior, the catcher hit .380 with 29 RBI.
Kyle Johnson - INF
Kyle is a true freshman at UCSB and is originally from San Jose, CA where he starred for Leigh High School. The lefty first baseman hit .483 with four home runs and 20 RBI as a senior.
Remember to use Select Tax & Bookkeeping this Tax season. Their bookkeeping and accounting services provide value, expertise, and "Financial Peace of Mind". Call 916-408-8664 to talk to John or Tina.