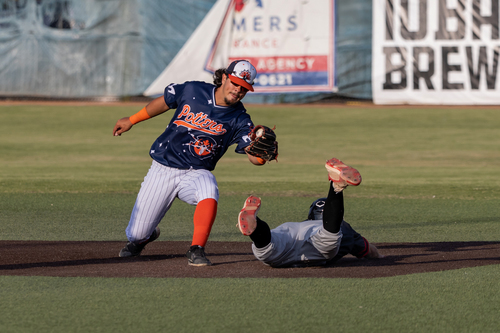 The Lincoln Potters found themselves in a must-win game Saturday night as the Walnut Creek Crawdads were in town for a battle between two teams tied for the CCL North's second and final playoff spot. The force was not with the local nine on Star Wars Night, as it was all Walnut Creek in a decisive 14-6 victory.
After a quick first inning, the Crawdads jumped on Lincoln with four spots in the second and third inning to race out to an 8-0 lead. The runs didn't stop there, as a run in the fourth and four more in the fifth made it a 13-0 ballgame.
As though as things were for the Potters, they didn't concede easily as they scored six of the game's final seven runs. Lincoln got on the board with an RBI single off the bat of Nolan McCarthy (Kentucky) that scored JT Waldon (Folsom Lake College).
The Potters added three more in the seventh thanks to a passed ball and a two-RBI triple by Chase Weissenborn (New Mexico). McCarthy showed off his bat again in the ninth with a towering 382-foot homer that screamed off the bat at 106 mph, but it was too little, too late for Lincoln.
The Potter pitching struggled to find its rhythm, as starter Nick Dugan (Stanford) allowed nine hits and eight runs in just three innings of work. Alex Dargan (USC) took over in the fourth to try to eat some innings, but had trouble with the Crawdad bats as well. Walnut Creek saw the ball well, racking up 17 hits in the game.
Devin Marton (Sierra College) was able to stop the bleeding out of the bullpen, allowing just one run on one hit. His collegiate teammate Jake Torres (Sierra College) closed out the last two innings on the mound, shutting out Walnut Creek for the remainder of the game.
For the Potters, the road to the postseason just got a whole lot harder as they fell one game behind the Crawdads for the final playoff spot with just two games remaining in the season. The Potters stay home for the remainder of the season, with home games against the Solano Mudcats tomorrow and Healdsburg Prune Packers on Monday.
You can find tonight's box score here.