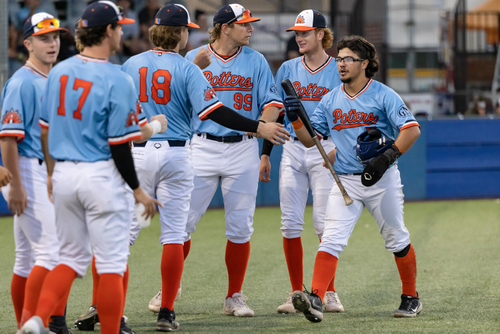 The Lincoln Potters won a slugfest over the Solano Mudcats Thursday night 19-9. It was a crucial win for the Potters who remained in second place and widened the gap between them and the Mudcats to two games with just four remaining.
Ten different players registered a hit for the Potters as well as 10 picking up an RBI, including two pitchers. Lincoln stormed out of the gate, putting up four runs in the second and six in the third to jump out to a 10-0 lead. The Potters didn't stop there, putting four more across the plate in the next two innings to make it a 14-0 ballgame after five.
The Mudcats didn't go quietly however, as they scored nine of the next ten runs in the game to close the gap to 15-9. Lincoln responded well to the pressure and scored four more in the bottom of the eighth to get the lead back up to ten and secure the win.
Craig Schmich earned the win in four innings of work in his final regular season start as a Potter. Schmich had his best stuff on the mound, allowing just three hits while striking out eight.
Alex Dargan, Connor Gibson, and Devin Marton combined for the last five innings of work out of the bullpen and while Solano surged late in the game, the trio were able to fend off the Mudcats and preserve the victory.
The Potters still remain in sole possession of second place in the CCL North with just four games remaining in the season. Lincoln is hanging on to a one-game lead over Walnut Creek and a two-game lead over Solano. The Potters will be back in action Friday on the road at the Sonoma Stompers.
You can find tonight's box score here.