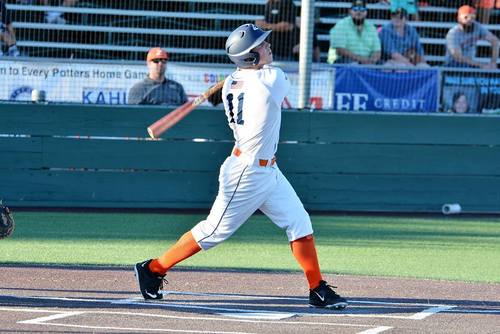 The Potters' bats kept swinging last night with a total of 11 runs on 15 hits to help them get the win against the Yuba City Bears. The Potters took the series winning two out of the three games and improve to 10-4 on the season.

Austen Swift helped the Potters by going 2-for-4 with four runs, two RBIs and his first home run of the season! Braden De Benedictus also contributed to the scoring by going 2-for-5 while scoring two runs and having four RBIs on the night. Gilbert Sauceda went 4-for-5 scoring one run, Jacob Allen went 2-for-3 with one RBI and one run scored and Will Law went 1-for-4 with a run scored and an RBI.

On the mound for the Potters, Marcus Garcia got the start pitching five innings while allowing only one run on one hit, walking three and striking out three. Zach Hoffman got the win last night making it his second of the season. He pitched 2.2 innings of work while allowing one run on three hits, walking one and striking out two.

The Lincoln Potters are back at McBean Stadium tonight before heading on the road for three games. Come on out for the first pitch at 7:05 p.m. against the Auburn Wildcats for the first Placer County Showdown!