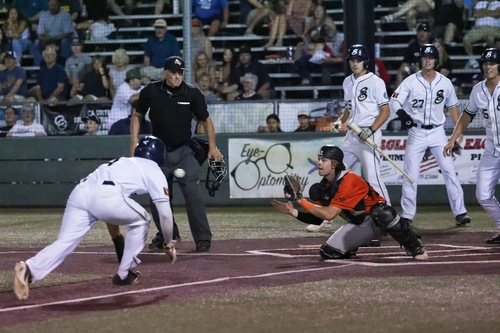 Potters Fall to Saints, Will Face Oaks in Elimination Game Tomorrow
By Jordan Georgeson
The Lincoln Potters fell to the Arroyo Seco Saints tonight in the opening round of the CCL State Championship Tournament. The Saints got on the board first in the bottom of the first, but the Potters tied things up in the fourth. Lincoln took the lead in the top of the fifth but the Saints answered back with a big bottom frame to pull ahead 4-2. The Saints added two insurance runs in the bottom of the eighth inning and held off the Potters to win the game 6-2. The Potters will face the Conejo Oaks tomorrow morning at ten in an elimination game. The winner of that game will face the Prune Packers at 2:30.
Both of the Potters' runs came from solo homers. Daniel Susac hit a solo shot to lead off the fourth inning that tied things up at one. Mason Holt led the fifth inning off with a homer to give the Potters the lead 2-1. Garret Forrester was just feet away from a home run twice in the game, but instead ended up with a pair of doubles. The Potters were making solid contact all night, but unfortunately were unable to turn it into meaningful hits. Lincoln was able to load the bases in the eighth inning but a solid defensive play from Arroyo Seco shortstop Brandon Bohning ended the inning and kept the Oaks in the lead. The Potters totaled just two runs on eight hits and left eight runners on base.
Brandon Gomez had a strong start for the Potters, but unfortunately earned the loss after a tough fifth inning. Gomez went five innings and retired six batters on striked while giving up four runs. Connor Harrison entered the game in relief in the sixth inning. Harrison allowed six hits and gave up two runs, both earned.
"We didnt get the big hit in the big situation and that's always going to bite you in the butt in a close game like this one." said manager Ryan Stevens after the game. "I think for the players tomorrow is just going to be like how we've played all summer. You have to compete every inning and every pitch." he added about tomorrow's matchup with the Oaks.
The Potters will be fighting to stay alive with tomorrow's game against Conejo. The entire CCL tournament will take place at McBean Stadium in Lincoln. Watch the Potters live on Facebook and listen on Potters Radio via the mixlr app. Also follow along on twitter @LincolnPotters to get live updates!
You can find tonight's box score here.