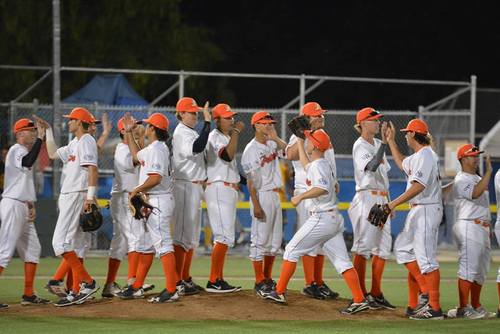 The Potters made an eight run rally last night to beat the Chico Heat, 11-10. Zach Hoffman struck out two and got the final three outs to save the game last night. He came into the bottom of the ninth inning with the bases loaded and no outs.

Both teams' bats were swinging last night with the Potters totaling 12 hits and the Heat with 17 hits. Helping the Potters' offense was Zach Hall who went 2-for-5 with two RBIs and two runs scored, Gilbert Sauceda went 2-for-5 with an RBI, Derek Molina went 1-for-5 with an RBI, Braden De Benedictus went 2-for-4 with an RBI and a run scored and Ambrose Romero went 1-for-3 with an RBI and one run scored. Jacob Allen was a pinch runner in the top of the eighth, scoring the run to put the Potters in the lead.

Marcus Garcia got the start on the mound for the Potters pitching 2.2 innings allowing 11 hits, eight runs, one walk and two strikeouts. Jacob Gomez got the win for the Potters pitching four innings while only allowing three hits, no runs and one walk while striking out five. Hoffman got the save.

The Lincoln Potters take on the Chico Heat again tonight in Chico with the first pitch at 7:05 p.m. The Potters return home to McBean Stadium tomorrow for one game against the Heat.