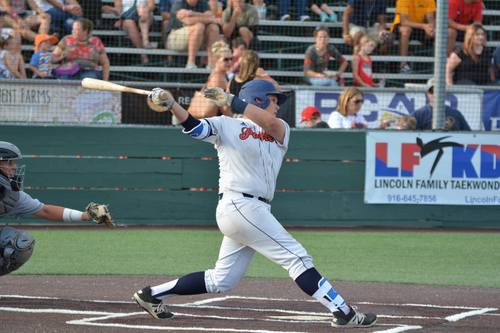 The Potters won their 7th game in a row last night by a score of 12-8. The Potters scored 7 runs in the second inning on the way to what looked like a blow out win. The Potters amassed 5 walks in the inning while collecting 3 hits the big one coming from Will Law who had a bases clearing double to put the Potters up 7-0. The Seals would respond with 1 in the third and then 5 in the 5th but only 3 of the 6 runs were earned off starter Jakob Frederick. The Potters would respond with 5 of their own runs in the bottom half of the inning with a single from newcomer JJ Santana, a walk from Brenna Rozell, a 2 run single from Zach Patterson and Rozell would score on a wild pitch to make it a 12-6 game at the time. The Seals would get 2 more runs off a Brad Bussard home run but that would be all for Seals. The Potters improve to 32-20 and the Seals fall to 19-30.
Jakob Frederick got the start for the Potters and went 5 innings allowing 6 hits, 6 runs only 3 of them earned, 1 walk and struck out 3. The bullpen was good again as the combination of Ewan Armstrong, Hector Sepulveda, Micah Gunter, and Eli Garcia went 4 innings allowing 4 hits, 2 runs, walking none, and striking out 2. Frederick picked up his 4th win of the season for the Potters.
Zach Patterson had a big night for the Potters going 2-4 with 3 RBI. Patterson is 7-12 with 6 RBI, 4 walks and only one strikeout over his last 3 games. Alonzo Rubalcaba had 2 hits in the game as well and put the ball in play every at bat of the night. JJ Santana collected a hit and an RBI in his debut while making several great plays in the field.
The Potters will look for their 8th win in a row while also looking for the sweep of the Seals tonight in Fan Appreciation Night! It is the last regular season home game of the summer. Gates open at 5 and first pitch is at 6:05. You can buy tickets here: Tickets